Raise the Bar on Courage!
---
My article in the Huffington Post:
Faced with rising unemployment, the Minister of Labor and Employment decided, as an experiment, to freeze Frances' "social thresholds" for three years. This decision, now contested by a portion of the Left and of social partners, is nevertheless a show of good judgment by its author, demonstrating that we can resist ideologies and be pragmatic in politics!
Strengthened by the Auroux laws of 1982, these thresholds are an old chestnut in public debates, without, however, any politician daring to actually tackle them. Yet we all know that these social thresholds of 10, 20 and 50 employees are all brutal halts to a company's development. For those of you who doubt this, I'll add my entrepreneurial two cents. When you reach 10 employees, this transition, which should be a moment of pride and confidence in the future, is in reality a serious challenge. Business leaders all tell the same story: before you hire your 50th employee, you push your structure to its limits, waiting until you actually need 60 or 70 employees before taking the plunge.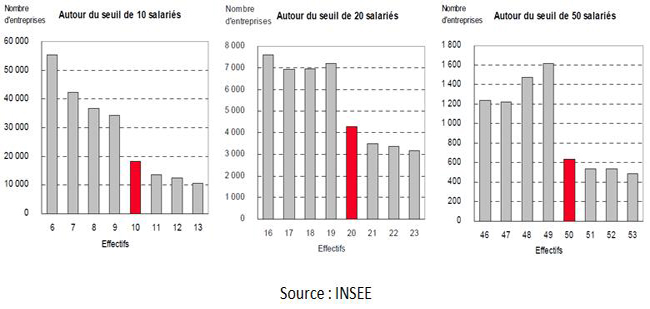 Jacques Attali estimated the cost of the obligations associated with the jump from 49 to 50 employees as 4% of the payroll: profit-sharing, increased expenses, forming a works council and a health and safety committee, monthly staff turnover reporting to DARES, the list goes on. Above a threshold of 49 employees, companies are hit with 35 new financial and administrative obligations. What company can sit back and watch its payroll increase by 4% without any improvements to its production capacity?
In fact, it's the microbusinesses and startups that suffer the most direct effects of these thresholds. Yet, startups have an average employee age of 32 years, so keeping them alive is a means of fighting the mass unemployment that affects one in five young people in France. The full burden of these social obligations falls on companies, causing some of them go out of business. In March 2014, bankruptcies increased by 3.9% compared to March 2013.
That's why it's imperative that we take action. First, by extending the experiment period proposed by the Minister of Labor and Employment. In fact, reducing the freeze period would quickly create a kind of blocking effect: within 12 to 18 months, business leaders would start anticipating the end of the freeze and would once again be reluctant to hire their 10th or 50th employee. Deciding to radically simplify the threshold system to a single threshold of 250 employees, once a company is strong enough to face the impact of the new obligations, would send an important signal.
Some people accuse us of trying to undermine workers. I have two things to say to that:
First, it's the very existence of thresholds that threatens business development, necessarily undermining employment and workers. The least protected employee is the one who no longer has a job.
Second, their vision of the working class is seriously outdated and corresponds less and less to the actual situation in our companies.
The days of patriarchy, class struggle and organized power struggles between employees and bosses are over. That social model dates back to the big companies of the 19th and 20th centuries, primarily in the industrial sector. Today's economy is now largely service-based. This evolution of our economic models, coupled with the arrival of the next generation, has seriously changed the relationship between employees and their work.
As proof, only 7% of employees are unionized. Employees don't have the same expectations as they did last century. These changes have altered the reality of both companies and labour relations. Today, business leaders care about having personal relationships with their employees, enabling them to be independent and empowered. They put learning skills at the heart of employees' day-to-day and they accept that the new networks and creative processes are partly beyond their control.
This revolution is happening before our very eyes. Companies have changed business models, work has been turned upside down by digital technology and the next generation is ushering in a new era of engagement and freedom. And yet, our ecosystem is still regulated by a philosophy and legal models that date back to the middle of last century. Often, as John M. Keynes said, "The difficulty lies not so much in developing new ideas as in escaping from old ones."
The struggle against injustice and insecurity, like the search for balance in the relationship between employees and managers, remains fundamental. But let's ask ourselves, without pretense: what does it mean to protect an employee today? Does making companies less nimble protect workers, or does agility? How do we, together, develop a kind of protection that makes sense for each individual and that suits our new economic paradigm? I'm afraid we won't find the answer to that question anywhere in the 3,400 pages of the Labor Code.
Raise the Bar on Courage!
was last modified:
May 26th, 2015
by